Blog post
Damascus offers unique ETC training opportunity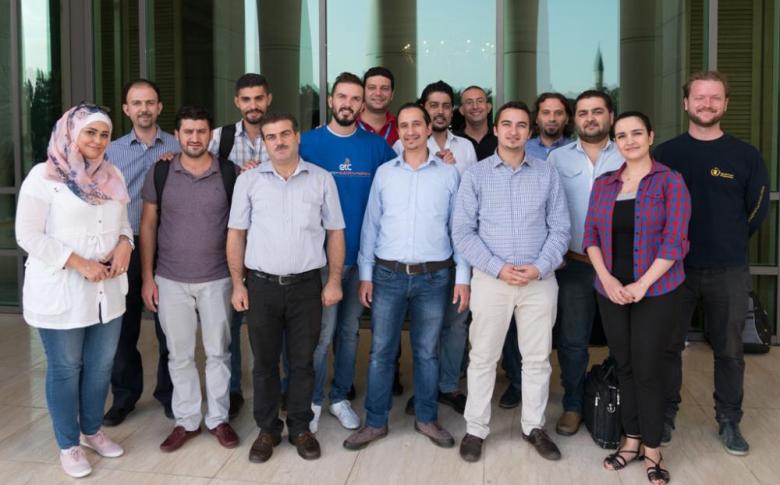 Every year, the ETC carries out an average of 10 training sessions, covering a range of skills, including IT, telecoms and coordination, and across a wide range of countries. Because the guys who conduct the training are not only experts in their respective fields, but do them so frequently, it can often be difficult for a particular training session to stand out.
Until Syria. In October, Rob Buurveld and Chris Alagna from WFP's Fast IT and Telecommunications Emergency and Support Team (FITTEST) travelled to Syria to facilitate an ETC Let's Comm training for humanitarians in Damascus. As usual, Rob was raring to go but for the participants it was a long-awaited, and much celebrated event. "It was a really great training. In general, the people here are not really exposed to radio as it is very restricted in Syria, so they were very motivated to get into it," said Rob.
Some participants, such as Mazen Shwikany, ICT Officer at UNICEF, who has supported humanitarian operations in Iraq and Syria, has been waiting a mere 14 years for exactly this kind of opportunity. "Yes, I've waited a very long time to attend this training! In emergencies, especially armed conflict, GSM and other communications become unreliable so radio communications is an important tool for both humanitarian operations and coordination, and for the security of the humanitarians themselves.
"As an ICT officer in UNICEF, it's important for me to know how to program and install radio equipment, and the Let's Comm training is all about that," said Mazen.
Other participants may not have waited quite so long, but were just as enthusiastic about the opportunity. Rita Deeb, telecommunications coordinator with the Syrian Arab Red Crescent (SARC) is one. "I did really enjoy the training as it focused on practical issues that we face in the field in our job. As SARC, we have the biggest VHF/HF network in Syria and rely on it heavily in our humanitarian work. Maybe in the future, the training could expand to include more on best practices. It's always great to share the experience with other organisations as there is always added value in doing that."
Freshly off the plane back in Dubai after Let's Comm, Rob said, "Another cool thing with this training was the participation of people from ICRC and SARC. We never really get to work or train together much so it was great to see how well that went here."
The impact of training like this is great. In an emergency as complex as the one in Syria, the ability to program radios and install radio equipment means that humanitarians can stay in touch with each other and coordinate better which, ultimately, can save lives. For Syrians, it means that they will receive vital humanitarian assistance faster.
Dragan Mocevic, ETC Coordinator in Syria, summed it up well: "Developing local capacity in Syria will positively impact ongoing ETC operations within the country. Having trained people from different operational hubs and different agencies, ETC will be able to quickly deliver new services in the areas which are sometimes hard to reach from Damascus.  
"Often, roads are closed and without support on the ground it takes time to repair and maintain equipment which can affect our services," he said.
---
By Suzanne Fenton, IT Emergency Preparedness and Response Branch