News
Regional Pacific Logistics Cluster and Emergency Telecommunications Cluster Workshop Begins in Vanuatu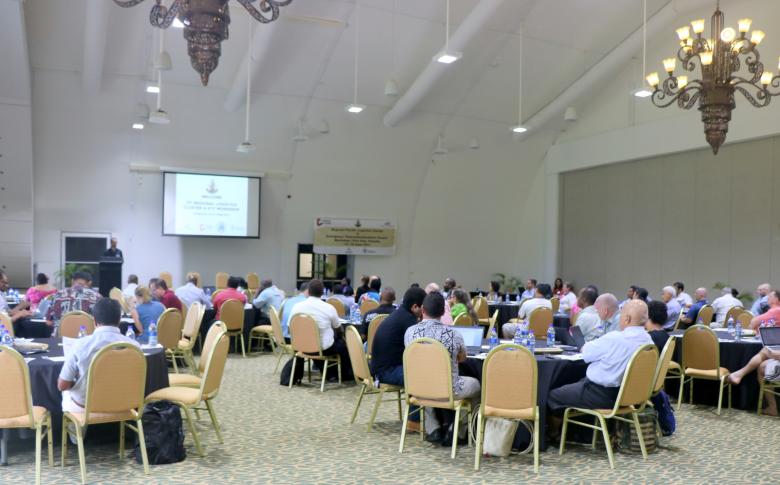 PORT VILA– Preparing for and responding to threats posed by natural and man-made disasters are major themes being discussed at the first-ever joint meeting of the Regional Pacific Logistics Cluster and Emergency Telecommunications (ETC) Cluster which opens in Port Vila, Vanuatu, today, convened by the United Nations World Food Programme (WFP).
The "clusters" aim to coordinate existing resources to strengthen national, provincial and community coordination in the areas of logistics and emergency telecommunications.
Speaking at the opening ceremony at the Warwick Le Lagon Resort Conference Centre, Hon. Ham Lini Vanuaroroa (MP), Vanuatu's Minister of Climate Change, reiterated his Government's support to the workshop, and the instrumental role played by both groups in the planning, preparedness, and emergency response as well as recovery.
"The Logistics and ETC Clusters are critical in that they provide a support function and consequently represent the backbone of programme delivery," he said. "We have learnt many valuable lessons from Cyclone Pam, but we are not complacent. We have a capable and growing National Disaster Management Office (NDMO), and we are looking at identifying and coordinating available support to pool together."
The workshop brings together over 100 stakeholders from countries across the South and North Pacific, including NDMOs, government ministries, regulators, NGOs, the Red Cross, the private sector, and UN agencies, with a focus on localising and adapting regional initiatives to the country level.
The Logistics Cluster is a coordination mechanism that brings different groups together to ensure effective and efficient logistics support in emergencies.
"The Pacific region is unlike any other in the world, with its vast expanse of waters and scattered islands. The logistical challenges for a humanitarian operation here are immense.
But the good news is that the region has a relatively small population, so we have the wonderful opportunity to bring together all relevant partners to work out local solutions," said Florent Chané, Logistics Coordinator at the WFP Pacific Office.
The ETC Cluster is a global network of organizations that work together to provide shared communications services in humanitarian emergencies, and support the development of country-level coordination mechanisms relating to disaster communications.
"As the regional cluster lead agency in the Pacific for emergency telecommunications, WFP works with countries to strengthen capacity to ensure a well-coordinated response to emergencies through the use of communication technology," said Salma Farouque, ETC Coordinator at the WFP Pacific Office. "By coming together in a forum such as this we can share our knowledge and learn from each other's experiences to improve emergency communications for the Pacific," she added.
In line with its global mandate and obligations as the head of the clusters for emergency logistics, telecommunications and as the co-lead for food security, WFP established a technical presence in the Pacific in 2015 to assist regional governments with their emergency preparedness measures, and to enhance their capacity to assist people in need. This support is coordinated through WFP's office in Fiji. The regional programme focuses on assisting five Pacific Island nations, Fiji, Samoa, Vanuatu, Tonga and the Solomon Islands, with plans underway to expand support into Northern Pacific Island States.
WFP is the world's largest humanitarian agency fighting hunger worldwide, delivering food assistance in emergencies and working with communities to improve nutrition and build resilience. Each year, WFP assists some 80 million people in around 80 countries.
Follow us on Twitter @wfp_media | @wfp_asia | @ITresponse
# # #
For more information please contact:
Sanya Ruggiero, WFP/Fiji, Tel. +679 8666 445, sanya.ruggiero@wfp.org
Jimmy Naura, NDMO/Vanuatu, Tel. +678 7720836, jnaura@vanuatu.gov.vu