Blog post
Namaskaar, Nepal!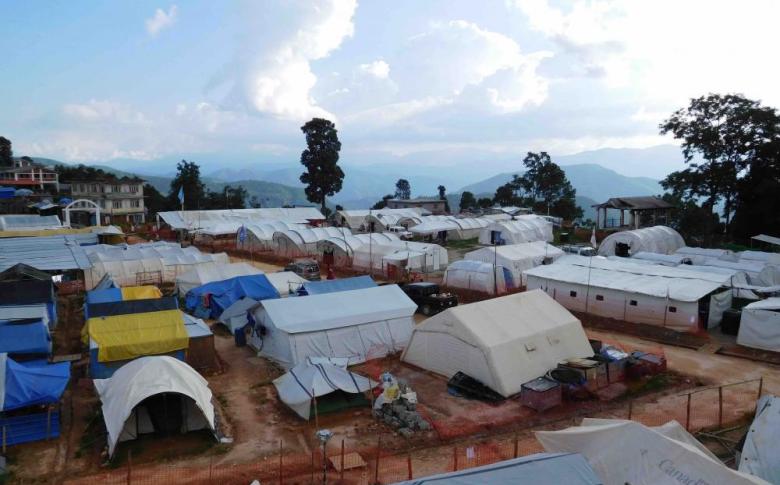 Just five months after the 7.8-magnitude earthquake struck Nepal, the Emergency Telecommunication Cluster (ETC) has been able to phase out deployed services in all common operational areas. Local communications providers have recovered from the disaster, and even extended into new areas, and ETC services are no longer required – which is a great thing! The ETC team was one of the first on the ground after the quake and has also been one of the first to demobilize thanks to close collaboration between humanitarian, government and national services providers.
"I was amazed to see the teamwork in this response," said Caroline Teyssier, ETC Coordinator deployed to support the last two months of the operation in Nepal. "The partnership and cooperation between all groups supporting the technology response has been fantastic and it was a privilege to work with the different organisations."
Led by the World Food Programme (WFP), the ETC Nepal operation was supported by a number of international partners including CMC Finland, emergency.lu, Ericsson Response, IrishAid, NetHope, Norwegian Refugee Council (NRC), RedR Australia, Swedish Civil Contingencies Agency (MSB) as well as local organisations and the Ministry of Information and Communications.  At the peak of the response, ETC Nepal was providing shared internet connectivity services to the response community in 24 sites across three common operational areas and Kathmandu serving over 1,550 humanitarians from more than 250 organizations. During the five month operation, the ETC also established security communications networks in three sites - now being supported by the UN Department of Safety and Security (UNDSS) as part of the nation-wide network - and coordinated information and communications technology (ICT) activities with partner.
"The cooperation and collaboration in the Nepal operation was brilliant and was evident in the quality of services provided," said Caroline. "Over ninety percent of humanitarians that responded to our feedback survey reported being very satisfied with ETC services and the support team. Good services means the community has the tools they need to respond, which means they can provide better and faster life-saving assistance."
"Preparedness activities, and engagement with local actors and service providers prior to the earthquake, really made an enormous difference at the onset of the response," explained Caroline. "Some equipment was already prepositioned and many local actors knew each other through the established local ETC working group and other preparedness forums. It is crucial that we maintain and improve these contacts and measures in case Nepal faces another emergency." To ensure sustainability and continue fostering emergency resilience activities, the ETC trained technical humanitarians and collaborated with Nepal authorities on capacity-building efforts. Nepal has also been selected by the ETC for the ETC2020 Pilot Project on Communications with Communities.
The ETC Nepal thanks all partners - government, humanitarian and commercial – for the exemplary collaboration throughout the emergency operation.
---
By Global Emergency Telecommunications Cluster (ETC) cell