Blog post
First ETC Workshop for the Pacific begins in Apia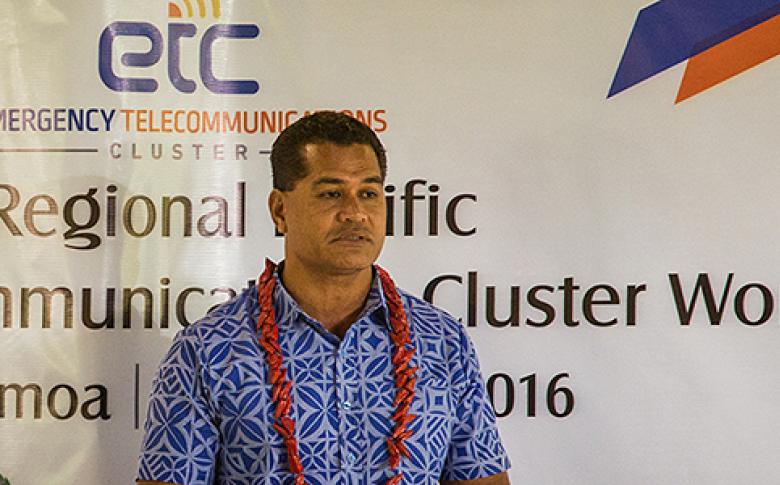 "Communication before, during and after a disaster is vital to ensure a coordinated response," said Samoa's Minister of Communications and Information Technology, during the opening of the first Regional ETC Workshop for the Pacific which started today in Apia, Samoa. "Innovative technologies also play a crucial role in helping people communicate with loved ones and relay their needs to responders. I hope that the next three days will deliver real outcomes that our Pacific Island Countries present here today can build towards in their national emergency telecommunication priorities and plans." 
Over 40 emergency responders and telecommunications experts are attending the three-day event, organised by the United Nations World Food Programme – Global ETC lead agency - and hosted in collaboration with the Samoan National Disaster Management Office. Topping the agenda are technology innovations in the delivery of humanitarian assistance; boosting coordination capacity in emergency communications and building effective partnerships to improve disaster response in the Pacific region. 
"How can we put people at the centre, if we don't give them a voice and a way to communicate with emergency responders when disaster strikes?" asked Florent Chane', Head of WFP's Pacific Office, as participants from Vanuatu, Solomon Islands, Fiji, Tonga and Samoa looked on. Chane' was referring to one of the reforms articulated during May's World Humanitarian Summit, and stressed the significance of the ETC workshop: "To build partnerships, strengthen cooperation and work collaboratively towards providing affected communities with the means to relay their needs, to stay connected and remain engaged while emergency response is underway."   
Following the opening statements, Jalal Shah, Global ETC Coordinator based in Rome, gave a comprehensive overview of the United Nations Cluster system, the activities coordinated through the ETC and explained the role of WFP, as Global ETC lead agency and provider of last resort. Whilst some Pacific governments already have their own cluster mechanisms in place, such as Fiji for example, others were new to the concept or expressed challenges in working within a Cluster system finding it somehow burdensome on local capacity. ETC Pacific preparedness officer and organiser of the workshop, Salma Farouque, highlighted the benefits of coordination mechanisms and common service provision - including shared internet connectivity, radio frequency and call-sign coordination and hardware - which are offered by the ETC during emergencies.  
After Jalal's presentation, the heads of National Disaster Management Offices from Fiji, Samoa, Vanuatu, Tonga and the Solomon Islands introduced their agencies' coordination mechanisms, communications systems, opportunities, needs and activities. Augmenting the technical capacities of telecommunication emergency responders, improving coordination mechanisms during disasters and building further on existing infrastructure capacity were some of the common themes underlying the presentations.  
One of the most lively debated segments of today's session was when Donnie Defreitas and Marc Lipton from the Pacific ICT Regulatory Resource Centre (PIRRC) talked about existing emergency telecommunications regulatory frameworks such as the Tampere Convention introduced in 2005, and ways of incorporating it within existing national policies. Within the Pacific region, only Tonga has acceded to the Convention.
Following the presentation, participants were divided into 5 groups - for each of the 5 Pacific Island Countries part of the programme - and were prompted to discuss their National Emergency Telecommunications Plans. Some issues that were flagged for improvement included region wide coordination; harmonization of frequencies during disasters; equipment standardization; information sharing on new technologies and frequencies used by first responders; allocation of national ICT resources for use in the event of disaster (bandwidth, tower spaces, capacity on entity infrastructure); workshops on monitoring regulatory business and the feasibility on delivering assistance. 
---
By Francesca Ciardi, Information Management & Reports Officer, WFP Fiji