Blog post
Aden training comes to a close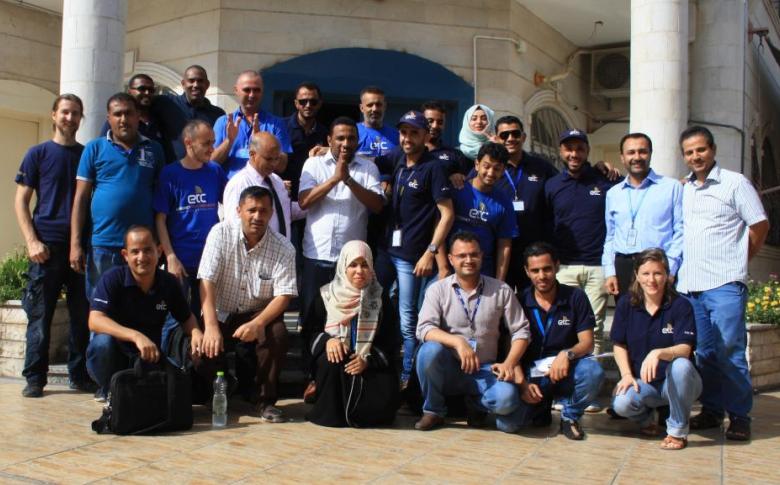 For the second time in as many months, my daydreams of travelling from Aden to Djibouti by boat – the WFP-chartered VOS Apollo – were scuppered at the last minute. So, I wasn't scudding across foamy seas with dolphins in my wake; instead I was on a very quick, very unatmospheric flight back to Djibouti for a five hour wait until our connection.
That aside, Wali, Seb and I together with two of our WFP colleagues from Sana'a were on the way back to our duty stations after a genuinely brilliant week of inter-agency ICT training in Aden. With an ambitious schedule packed into just six days, the training was initially planned for 12 participants, but we had 19 in the end which meant that the equipment (and time) we had was a bit stretched but once again, Yemen showed us all who is boss when it comes to teamwork and being flexible.
We trainers were the lucky ones with an excellent group of participants – enthusiastic, funny, interactive and very, very keen to take advantage of the rare opportunity of in-country ICT training and absorb as much information as possible. Kicking off with the Training of Trainers session gave participants the chance to get to know each other and have some fun with the dreaded presentation exercises! The end of training feedback was overwhelmingly positive with the most enjoyed parts of the course for participants included the extensive technical knowledge (VSAT/VHF/satellite/switches), facilitators' expertise and behaviour, teamwork, practical exercises, the ToT training, IM session and the IT Emergency Management session. But nothing is ever flawless and the main suggestion on what could be improved next time was to spend more time on technical information and practical exercises; something that will definitely be taken into consideration for next time.
As evening fell, we sat in Djibouti airport waiting for our flight to Addis. The terminal was full of humanitarians clutching the famed blue passport; all of them on their way to or from places where the aim is to assist those who are most in need. The whole point of local capacity building such as this one is to ensure that this assistance is maximized to the full and that local staff have the reins of the response in their own hands. The ETC training in Aden was a very small, but very significant step towards reaching that ultimate peak.