News
Sharpening emergency response: WFP-led Logistics and Emergency Telecommunications Cluster's gear.Up event kicks off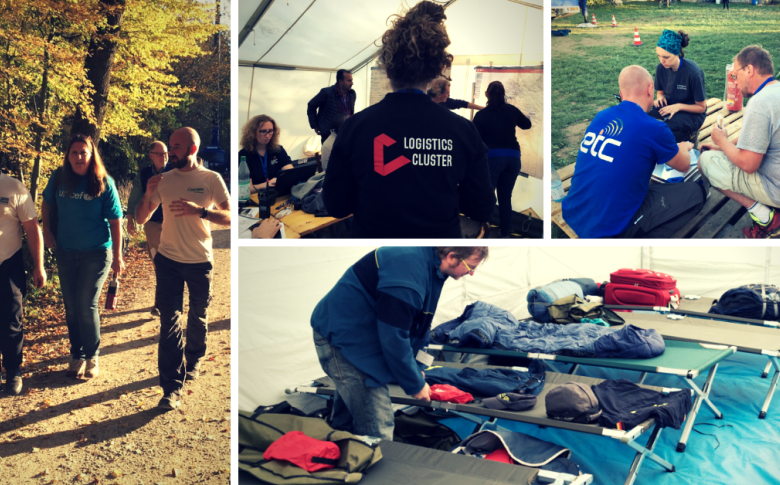 Gear.Up is an intensive six-day emergency simulation exercise drawing nearly 200 participants, facilitators and observers from over 40 different humanitarian organisations to Neuhausen, Germany, from 14 to 20 October 2018. 
"The aim of the exercise is to test equipment and skills under stressful conditions so that they are ready to cope with the rigors of emergency deployment. They key word here is preparedness." says Mike Zandvliet, OpEx Bravo Designer for the Emergency Telecoms Cluster.
This large-scale inter-agency simulation is designed to put participants in realistic emergency scenarios, testing their response capacities and skills. Throughout the week, participants from across a wide range of humanitarian organisations will work together to respond to an emergency by delivering logistics and ICT infrastructure and services, as well as all the related support.
"Gear.UP is our biggest capacity building event of the year, bringing humanitarians from different agencies and different professional experiences together, for better and more efficient humanitarian response systems," says Andre Hermann, Global Logistics Cluster Training Coordinator for the WFP. "After months of planning, the whole team here is looking forward to Sunday and seeing how participants respond to the scenario and the challenges we throw their way."
Gear.UP also develops and tests the participants' soft skills and their ability to prioritise tasks while coordinating with others. As both the ETC and the Logistics Cluster operate in some of the world's most difficult environments, gear.UP creates a network of responders, enhancing teamwork and ensuring that humanitarians can look after themselves and their peers in situations that are both physically and mentally demanding.
The experience is designed to develop the individual and team skills required to operate effectively – and therefore save lives – during emergencies around the world.
This joint-cluster initiative is being generously hosted by THW (Bundesanstalt Technisches Hilfswerk), co-funded by the German Federal Foreign Office and the Government of Luxembourg and supported by Ericsson. The event is organised by the Logistics Cluster, ETC, Emergency.LU and THW.