News
Partners expand internet services in fight against Ebola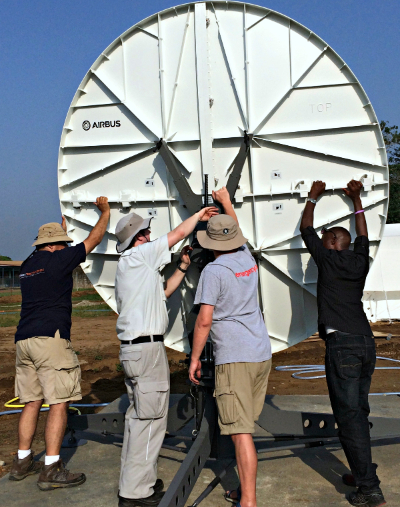 Six months after the United Nations Security Council declared Ebola a threat to international peace and security, the Emergency Telecommunications Cluster (ETC) in Sierra Leone is providing internet connectivity to 57 medical institutions in the country. Thanks to the cluster's network of partners, that number continues to grow every week.
"In the effort to provide internet services to humanitarians and medical personnel in Sierra Leone, the role of partnerships cannot be overestimated," says Mark Phillips, ETC Emergency Coordinator for Sierra Leone. "From equipment to expertise, collaboration and contribution from our partners are what has allowed us to support so many medical facilities with essential services."
Response teams from several organisations, including Ericsson Response, Nethope, World Food Programme (WFP) and emergency.lu, are working together and combining technologies, adapting to the challenges of this emergency. As Ebola treatment facilities are spread throughout the entire country and local infrastructure is limited, the teams rely on partnerships and new solutions to achieve results. At the Bo Government Hospital, for example, connectivity is provided by Nethope member SOS Children's Village, utilising a BT satellite terminal, distributed using Ericsson Response WIDER with technical support from WFP.
While providing internet connectivity to humanitarians is the standard ETC mandate, the nature of this emergency makes it very unique and very demanding. Martin Falebrand, working as part of the Radio Design Unit in Ericsson and volunteering with Ericsson Response, points out: "It's more a personal challenge rather than a technical challenge to set-up equipment in facilities like a treatment unit. It's a very special feeling to go into an Ebola Treatment Unit (ETU). You smell all the chlorine and you see the doctors working in the 'red zone'. You are close enough to actually look across into the red zone of an ETU and see the people that are being treated inside. It's not far away – it's very close to Ebola."
The ETC coordination team in Freetown receives up to five service requests per week from various Ebola treatment facilities to provide or improve connectivity. The ET Cluster is currently providing internet connectivity to over 2000 humanitarian workers at 80 locations across Guinea, Liberia and Sierra Leone. To achieve these results the ET Cluster is using seven Ericsson Response WIDERs, more than 100 Access Points, as well as satellite terminals from emergency.lu and British Te lecoms (BT). It is the combined use of various partner technologies that make the ET Cluster best equipped to respond to the Ebola Emergency across the three countries.
"We are very lucky to have partners who provide us with the means to respond to a high volume of requests that require deployment of advanced technologies, in order to empower those who reach the most vulnerable people," says the Regional ICT Emergency Coordinator, Geoffrey Okao.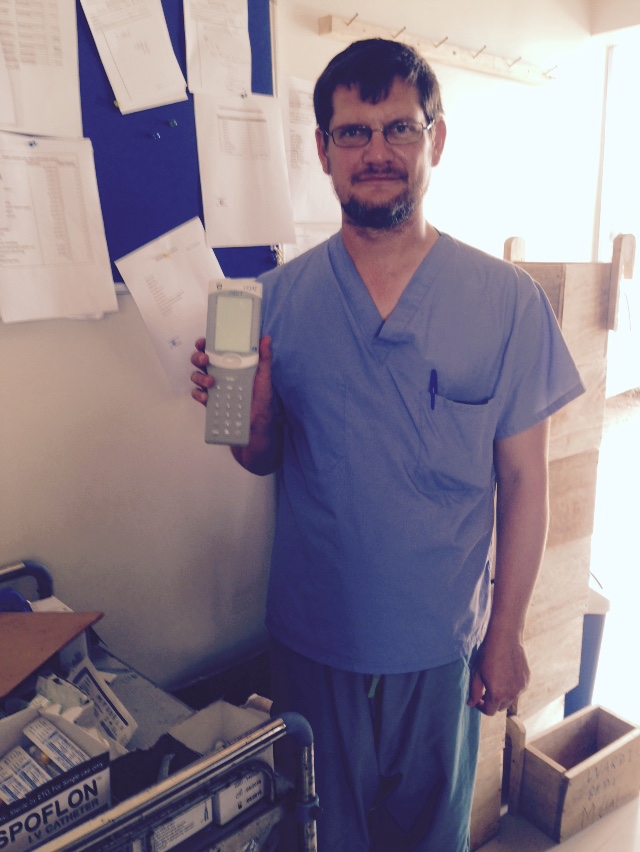 Once the teams connect a facility to the internet, medical teams are able to send lab results, request supplies, communicate with management, complete the census of patients and to educate new staff that arrive at the facility. A physician at the Port Loko Government Hospital and Ebola Holding Centre, where ET Cluster is providing its services, Dr. Aaron Highfill says that "having internet makes a world of a difference as the doctors receive at least 30 emails per day with new information and have a constant need to communicate across the teams in different locations."
Although the ET Cluster is not officially activated, the UN Mission for Ebola Emergency Response (UNMEER) mandated WFP to respond as if the cluster was activated and to lead inter-agency Information and Communications Technology (ICT) efforts across Guinea, Liberia and Sierra Leone.
Looking ahead, ET Cluster is planning to continue to expand and improve its services where they're most needed, focusing on providing essential internet connectivity services and a combined security radio communications channel.