News
Opex Bravo 2017: Developing capability to better assist during humanitarian crises and emergencies.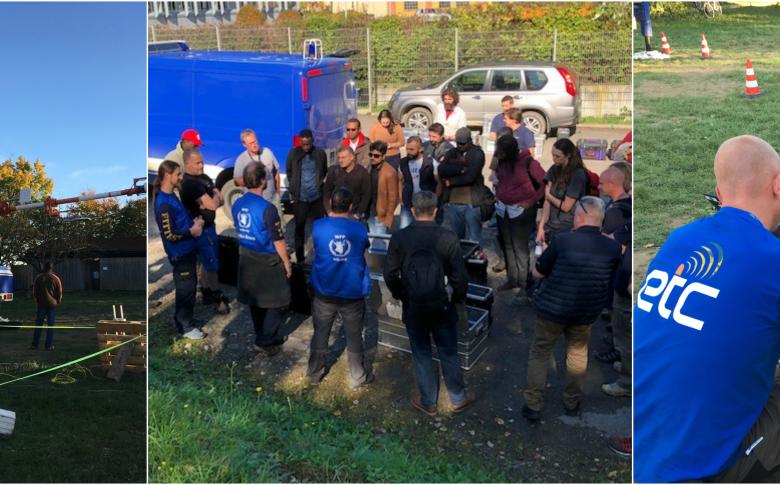 One of the largest scale humanitarian preparedness and response exercises to date is taking place between 15 and 21 October in Neuhausen, Germany. Generously hosted by the Germany Federal Agency for Technical Relief (THW), the German Foreign Office and the Government of Luxembourg, this year's exercise combines, for the first time, the Emergency Telecommunications Cluster's (ETC) Opex Bravo Exercise with the Logistics Response Team (LRT) Training delivered by the Logistics Cluster.
This merged Exercise is a large-scale inter-agency field simulation and training event designed to further advance both the ETC and the Logistics Cluster's Emergency Response capabilities and coordination within and across the global humanitarian community. This intensive, six day simulation exercise is conducted in field conditions and places the participants in as near realistic situations as possible while challenging them to achieve a comprehensive set of required emergency response objectives.
ETC and LRT participants work in mixed teams to deliver the full range of technical solutions as well as the logistics support and infrastructure required when deployed to deliver immediate operational surge capacity and coordination.
Additionally, this Joint Exercise develops and tests the participants' soft skills such as leadership, management and negotiation as well as their ability to prioritise tasks and to look after themselves and their peers in situations that are both physically and mentally demanding.
This merger of two key training events provides a unique opportunity for humanitarian personnel to work with and learn from their colleagues from other Agencies, as well as to develop both the individual and team skills that will be required to operate effectively, and therefore save lives, during emergencies around the world.