News
Ericsson Response wraps up in Haiti
Six months after the emergency deployment to support the complex earthquake relief effort in Haiti, Ericsson Response is bringing equipment and volunteers home. "The Haiti emergency response is something I really wanted to do," says Tomi Virkkala, Ericsson Response Volunteer from Finland. "Everybody can help in their own way."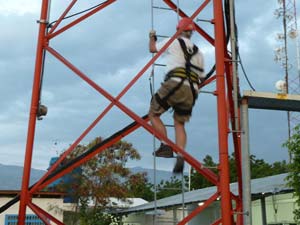 Overall, eighteen Ericsson Response volunteers were deployed to Haiti. They established and operated a communications infrastructure based on two containerized GSM Radio Systems covering 35 square kilometers around Port-au-Prince. Each day the team facilitated over 3000 calls among agencies and relief personnel in a variety of settings. Ericsson Response distributed 1500 mobile telephones to humanitarian agencies and NGOs, a donation from Sony Ericsson.
"I am proud of myself and my company," says Tamer El-Erian, Ericsson Response Volunteer from Egypt. "And proud to be part of such an enormous and important relief effort." I
n emergency situations, the speed with which aid and support can be mobilised is one of the most important factors in preserving life and relieving suffering. Information and Communications Technology (ICT) is one of the most vital enablers of fast and coordinated action, and all aid agencies strive constantly to improve their readiness and their capability for rapid and effective response. Ericsson Response is corporate responsibly program and the work of the team proves that telecommunications expertise is of enormous benefit during times of disaster.
"We all had one common goal here," says Olivier Menoud, Ericsson Response Volunteer from Switzerland. "To help the others." 
---
By Patricia Polvora, Ericsson