Blog post
MEET: Vladimir Barrero - OCHA, Colombia
"The key is coordination, not only to lead people, but to work together with them to achieve the best results and help as many people as possible."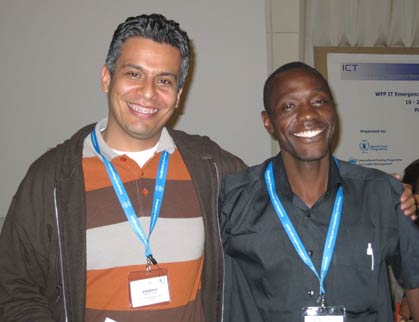 Trained electronics engineer Vladimir Barrero Castro, ICT Officer for United Nations Office for Coordination of Humanitarian Affairs (OCHA) in Colombia, was a participant of the IT Emergency Management Training in Pisa.
Joining OCHA in 2006 as an ICT assistant, Vladimir has progressed to ICT Officer where he is responsible for supporting telecommunications platforms, including voice and data, for all Colombia OCHA Staff.
"It's a huge responsibility," explains Vladimir. "No office can work without the proper ICT infrastructure in place so it is up to my team to ensure everything is running smoothly at all times."
One of OCHA's key missions is to mobilise and coordinate effective and principled humanitarian action in order to alleviate human suffering in disasters and emergencies. Vladimir explained that this is especially pertinent to countries such as Colombia which are susceptible to disasters.
"The geography of Colombia means that we are open to a number of natural disasters including volcanoes, floods, tsunamis and hurricanes. We also have internal conflict which means we have around three million internally displaced people. It is essential for us to have the necessary ICT infrastructure in place to be able to cope with such emergencies and ensure that the necessary aid can reach those who are most in need."
In addition to his role as ICT Officer, Vladimir also manages the Humanitarian Integrated Information System and is coordinating the local Emergency Telecommunications Working Group in Colombia.