This Emergency is no longer active.
Emergency
Ecuador: Earthquake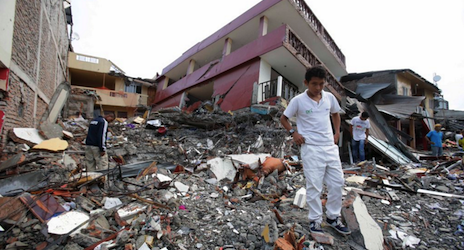 A 7.8-magnitude earthquake struck northern Ecuador on 16 April 2016, at 7pm local time. Over 230 casualties have already been reported and more than 1,500 injured. As rescue teams search for victims, these numbers continue to rise. Ecuadorian Red Cross estimates that up to 100,000 people could have be affected, with 5,000 requiring emergency shelters.
Infrastructure was heavily affected with 370 buildings destroyed and many others partially damaged. 
A national state of emergency has been declared. The national Emergency Operations Centre (EOC) has been activated, in addition to mobilisation of the Ministry of Transportation and Public Works, military and national police. The national Emergency System has been activated to assist with the response in the capital Quito and the provinces of Manabí, Esmeraldas, Santa Elena, Guayas, Santo Domingo and Los Ríos.
Source: IFRC
The Emergency Telecommunications Cluster (ETC) has not been officially activated in response to the Ecuador earthquake but is monitoring the situation closely in collaboration with regional teams. Organisations contributing to the ICT response in Ecuador are encourge to share information on the Discussion Forum to send to Global.ETC@wfp.org 
Regular updates from the ground will be shared in the Discussion Forum 
Related documents and links